February 16th, 2019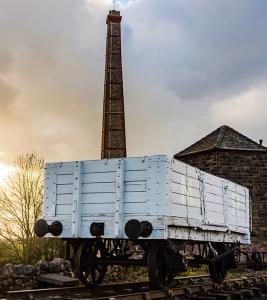 The last couple of weekends I've been lucky enough to get out to Middleton Top in the Derbyshire Peak District. One of the best things about living in Derbyshire is being surrounded with a lot of great history matched with beautiful countryside, and Middleton Top is a perfect example of this. This first image at the bottom of this post is a perfect example of this:

This image (on sale on this site) shows one of the old carts that was used on high peak railway along with the station house in the background.

Going in one direction from Middleton Top brings you to Hopton Tunnel carved into the country side to once allow trains to pass through. This immediately brings you out to Hopton Incline, which is a fair walk.

Along the incline there are more views the be had. Rolling countryside and farm houses provide some stunning views while new technology in the way of wind farms has been added to the area (it does get a bit windy up there in the open)

Going the other way from Middleton top takes you towards Middleton Incline. This steep hill is littered with old tracks and engines and really shows the heritage of the area coming through

But if you get to the bottom of the incline and fancy a walk back up the black rocks you will be met with some stunning vistas across the Derbyshire countryside

Further down the path is Cromford and Cromford Canal which itself is steeped in industrial history. But I'll be leaving that visit for another time.